VMworld Kicks Off August 27-30 at Mandalay Bay, Las Vegas
The epicenter of the virtualization ecosystem will be at the VMworld 2018 conference, held again at the Mandalay Bay Hotel and Convention Center.
Please stop by NCS Booth #1047 from Sunday evening through Wednesday to learn more about how the industry's leading desktop virtualization solution from NCS can improve security and ease your IT administrative complexity. NCS will also be promoting rugged server and storage solutions that are ideal elements in a total VDI solution.
NCS is the world leader in productizing PCoIP zero client technology and our booth staff is available to contrast the benefits of zero clients against thin client offers. On the booth are Matt Cooke, Mike Turicchi and John Callahan, who can demonstrate laptop zero clients and long with a variety of desktop implementations. NCS zero clients improve manageability, drive down cost of ownership and improving security in desktop with customer installations all over the planet.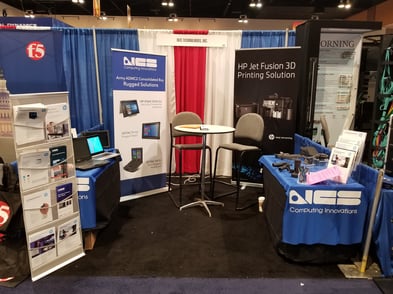 Ultra Secure Zero Clients at Booth #1047
NCS offers a complete family of virtualized zero clients. The NCS portfolio includes:
* Zero Client Desktops With Dual Display - Cirrus TZ-202L & Cirrus DT 5220
* Zero Client Desktops With Quad Display - Cirrus TZ-204L
* WiFi Zero Client Desktops with Dual Display - Cirrus DT WiFi & Cirrus DT 5230
* Zero Client Laptops - Cirrus LT & Cirrus LT Plus
Thin Clients
NCS will be featuring the HP t420 and t530 Thin Client solutions at this event. Noted for affordability, reliability and easy manageability.
Versatile Rugged Servers
In addition, NCS will feature its versatile NexServ RS210 "Bunker Class" Rugged 2U server which delivers high performance in a broad range of demanding applications. The readily deployable RS210 may be used for military shipboard and land-side server needs and is perfect for short-depth shipboard racks. The RS210 also meets the demands of the oil and gas industry, is a perfect solution for Emergency Management deployment, and may be used in temporary and mobile datacenters, GPU-intensive applications and harsh, high temperature, industrial environments. The RS210 meets stringent MIL-STD-810G, MIL-S-901D and MIL-STD-167 requirements.
The RS210 features up to 2TB DDR4- 2400/2133/1866/1600 MHz ECC RDIMM memory, four 2.5" hot-swappable hard disks or SSD, dual Ethernet LAN, PCI-E 3.0 technology, and dual Intel® Xeon® E5-2600 V3/V4 Series Processors, the RS210 delivers high performance up to any challenge.
See you at Booth 1047!
To learn more about NCS zero clients solutions, just download this brochure.