3D Printing and Rugged Solutions at Booth #724
Today is the final day at WEST 2019, sponsored by AFCEA International and the U.S. Naval Institute, at the San Diego Convention Center. WEST is the premier naval conference and expo on the West Coast. NCS features HP 3D Printing Solutions and NCS rugged servers, both of which are strong attractions at Booth #274!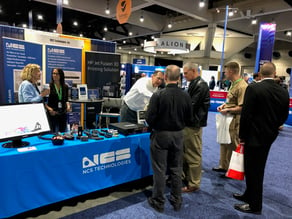 NCS Rugged Servers
One of the fastest growing businesses for NCS involves manufacturing rugged servers for the military and government civilian agencies. We sell a wide variety of NCS-branded rugged servers and custom designs for the Navy's Tech Insertion program. We have one of our 2U short depth rugged servers for the program featuring dual processors on display at the booth for inspection.
NCS Recommends HP 3D Printing Solutions for the Navy
NCS is the leading HP Partner offering HP 3D Printing Solutions to the federal marketplace. NCS sells and services the compact HP Jet Fusion 580/380 Color and HP Jet Fusion 4200 Printing Solution for industrial prototyping and final part production.
NCS is an authorized HP reseller delivering installation, warranty and training support services and applications expertise to maximize 3D printer performance, throughput, part quality and yield.
For more information on our technology solutions, please call Gregg Buzzard at (571) 418-9120. To learn more about our HP 3D Printing Solutions, please download this brochure.