Although organizations have begun their leap to Virtualization and begin to embrace zero clients more and more, end users still have beefy workstations that they use on a day-to-day basis.

For some users, AutoCAD or Geospatial software just isn't an option to run through a VMware View session. Perhaps the Frame Rate per second is not quick enough to support full 3-D modeling, or the VDI Desktop they have been assigned doesn't have the necessary resources to support Tactical Terrain modeling. Whatever the particular case may be, there is a virtualization option available.

There are two models available from Teradici, the Tera2240 and the Tera2220. The only difference between the two is that the 2220 supports 2 monitors and the 2240 supports 4 monitors.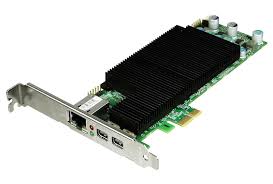 Additionally, AMD also offers a PCoIP Remote Workstation Card. The only difference in this card is that it combines both the Tera2240 with a HIgh End Graphics card so no additional hardware is required. Their card is the AMD FirePro R5000.
Not only does the PCoIP Remote Workstation card allow end users to capitalize on their existing hardware, but they can also leverage zero clients on the front end to work remotely with their day-to-day hardware.
It gives the end user the ability to harness the power of high-end towers, blade servers or rack workstations by converting them into a workstation that delivers high-end images to any remote location.
Users can work with visuals rendering at 250 mega pixels per second driving 2560x1600 resolution screens with refresh rates of up to 60 frames per second. This means no waiting forever for a change to render, no jaggies or bit-mappy images. So, for example, an end user could be situated on the East Coast, be accessing their remote workstation from the West Coast, and experiencing little to no lag time or delay. It's almost as if they are sitting physically at the workstation.
And because the PCoIP Remote Workstation Solution encrypts pixel transfers with advanced security algorithms, including AES-256 and NSA Suite B cryptography, the data is always secure.
So what does this mean for IT? Simply put, this workstation can be left at the users cubicle or moved to the datacenter. All it requires is an IP address and the end user can access it remotely via a Zero Client or the Windows Soft Client software from Teradici.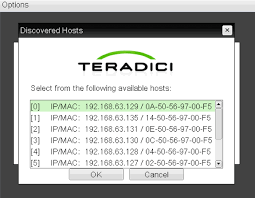 The setup and maintenance is rather simple. The PCIe card plugs into the workstation, connects to the graphics card, and securely streams pixels, audio and USB over your network.
This is a great alternative for hardware that serves a specific purpose, and just can't be virtualized. This allows IT to maintain this machine in their datacenter, but gives the user unlimited access to the machine from wherever they may be in the world.
This discussion of virtualization options has application with an initiative popular in the U.S. Government involving a multi-level virtual platform which allows a user to run multiple securely isolated environments on a single PC, provide hardware-enforced security and deliver superior virtualization in the most demanding environments. This initiative is called SecureView. More on that in our next blog!