Make Plans to Visit Booth #29
The Rocky Mountain Chapter of AFCEA is ready to kick off the Cyberspace Symposium 2017 at the Broadmoor Resort, Colorado Springs, Feb. 6-9.
The theme this year is "IoT is Here: Connecting, Protecting, Impacting."The conference will explore the vast changes occurring in how devices connecting to our networks improve efficiency yet challenge security. Attendees from the armed forces and government involved in the IT security ecosystem will attend to learn about new products and solutions, and to hear about the latest industry trends as highlighted in the many breakout sessions and keynote speeches.
Please join NCS Technologies at Booth #29.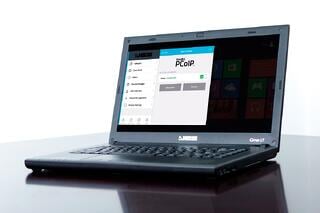 NCS will be highlighting several industry-leading approaches to keeping government and military secrets secure. At this event we will be highlighting solutions focused on protecting data on desktops and laptops - where data may be exposed to potential unauthorized access. Data protection needs to go beyond standard anti-virus updates.
Virtualization at the laptop and desktop level is proven to improve overall IT manageability and deliver strong security where it is needed most. Virtualizing PC end points should pay immediate dividends.
Several Approaches to Virtualization and Data Protection
One approach to improved cybersecurity is to implement a PCoIP protocol and zero client end point strategy.
Zero Clients are managed by VMware Horizon software and use the ultra-secure PCoIP remote display protocol. A zero client has no local OS. The operating system resides in the data center. Therefore, there is no persistent user data, no patches, updates or antivirus software needed. Of the many ways to virtualize at the endpoint, zero clients deliver super manageability, low cost of ownership and superior security protection.
Another approach - becoming increasing popular in military and intelligence agencies - is the implementation of SecureView.
SecureView, the multi-level virtual platform, allows a user to run multiple securely isolated environments on one PC or workstation, with hardware-enforced security. Designed for high-performance, power users, SecureView is the result of extensive development work by the Air Force Research Laborator (AFRL), the open source community, Assured Information Security and NCS.
SecureView is a low-cost, multiple-independent-levels of security (MILS) workstation-based-COTS technology which is based on Type 1 or bare metal client hypervisor. It allows single computer-to-host multiple-guest VMs running at different classification levels. Many agencies have deployed the SecureView platform on computers supplied by NCS and others. The NCS systems approved for use include the Stratus MT and Stratus DT desktops and the Vortex MT and Vortex MDT workstations.
NCS will have all of our industry-leading cyberspace protection solutions on hand at this show. Please stop by the booth! For more information on NCS SecureView solutions, please check out this recent blog on the topic: http://blog.ncst.com/secureview-multi-domain-0
If you would like to learn more about zero clients and how they help protect data, please download this brochure today.